Voyager Moves to High Speed Wireless Networking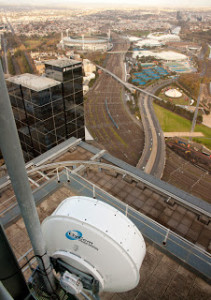 Voyager Distributing Co a large Australian distributor of ladies, men and children's apparel has recently migrated its key wireless wide area network links from  Motorola PTP class licensed systems to  Cambium Networks PTP800  high capacity licensed systems. The systems interconnect the company's head office in Carlton to two key repeaters, one in the Melbourne CBD and the other in a Housing Commission Building in Carlton. Three corporate sites connect to the  Melbourne CBD repeater in 101 Collins St and another 4 sites including the company Melbourne warehouses connect to the repeater site in Carlton.
Despite the original wireless WAN operating within the designed parameters, increased deployment of 5.8Ghz systems had increased the interference in the 5.8Ghz band thus starting to impact system performance. This prompted to Voyager to migrate its key communications links to mission critical licensed systems and guarantee larger capacity and system response times.
DyCom Wireless Solutions designed and planned the migration to Cambium Networks PTP800 systems in the 38Ghz band for high capacity, short hops and 18Ghz for longer links. Some unlicensed links were maintained as their system performance was still acceptable.  Key backbone links now operate at 340 Mbps while the longer site links operate at 100 Mbps.   The systems are remotely monitored by DyCom's management systems allowing for fast response in case of failure.