Marshall White implements a NEC iPasolink Gigabit Radio between its two sites in Armadale.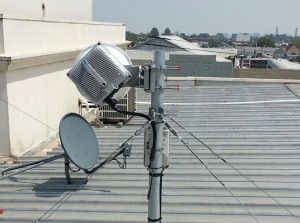 Expanding its office across the road presented a problem for Marshal White IT Manager. Due to growth in the business some staff had to move to new premises across the road. High quality voice over IP communications and fast database applications were essential for the staff in the new premises.    The business needed high capacity, low latency and high availability communications but at a low cost.
To interconnect the two sites Marshall White considered a fibre based service from the telco provider and also a wireless link from DyCom. It finally selected DyCom's proposal to deploy the NEC iPasolink EX system between the two sites and a low cost Ruckus 7731 radio link as a backup.
The NEC iPasolink EX operates in the 70/80 Ghz band and delivers up to 2 Gbps full duplex communications. The system was commissioned in March this year and so far is has performed flawlessly.